Interwood wishes you World Senior Citizens Day and you deserve the whole world's appreciation to your mental, physical and social wellness. Interwood appreciates you for your life long efforts and contribution towards the society and the next generation.
The team of Interwood shows gratitude towards all senior citizens by providing you relaxation for your hard work, zero stress life in return of your worries and struggles taken to nourish the next generation.
We are pleased to make you feel fortunate by being thoughtful, experienced and motivating. We are always there to guide you.
Inspired by Senior Citizens, Interwood has arisen from the roots and always works for wellness. Like Senior Citizens, Interwood never gives up and we don't fear new challenges. We work towards being the best of the best.
Like you, Interwood has learned the most precious thing in Life called Experience which comes with age and we have started wellness Kitchens and wardrobes since 1989. Make Interwood Kitchens and wardrobes as a part of your home and we would be happy to know how much have we progressed. You have seen different phases of life and so, no one could be as better as you to experience and tell us about our progress
Senior Citizens have always found joy in work by discovering the talents of youth. They always love gelling around with the next generations. Interwood brings back the nostalgic moments of the Grandparents and Grandchildren. Eat and cherish ice creams together coming right from our wellness Kitchens. We create modular kitchens for Indian homes and let you live your life and forget your age. You feel too lively or active.
Your ageing is just a new phase of life when you can experience the exclusive. You get new opportunities and strengths, gifts of your life long struggle. Be a part of Interwood where price and cost do not overrun. Rather you will experience predictability and consistency in time, cost and quality.
Senior citizens have a right to get everything available immediately without any hassle. Interwood doesn't want you to struggle with work because of normal kitchens and wardrobes.
Interwood presents you elegant high-quality kitchens having a wide range of contemporary colours in super matt textures.
No need of wiping surfaces again and again as Interwood kitchen surfaces are anti-fingerprint. This makes the kitchen look always new for years.
Arrange a get together with your families and friends in our organised kitchens.
Get such kitchens that you had dreamt for the rest of your lives. But could not hunt because of the responsibilities. Prioritize your comfort. You are never too old to set another goal of an easy life. Interwood Kitchens suffice your goals of comfort and wellness.
We provide you the spaces in the functional kitchen that you can make complete use of. We care for your safety and rest and hence, our kitchens are Fire retardant for up to 45 minutes. They are termite proof, anti-carcinogenic, anti-fungal. It had a superior screw holding ability giving you a high quality and high safety cooking place.
This was Interwood Andrea.
Let's see your other taste of kitchen, Interwood Montana that is glossy and rich. You get varieties of colours and finishes to choose from. Choose Montana if you are looking for a new glossy kitchen or want to update your current kitchen.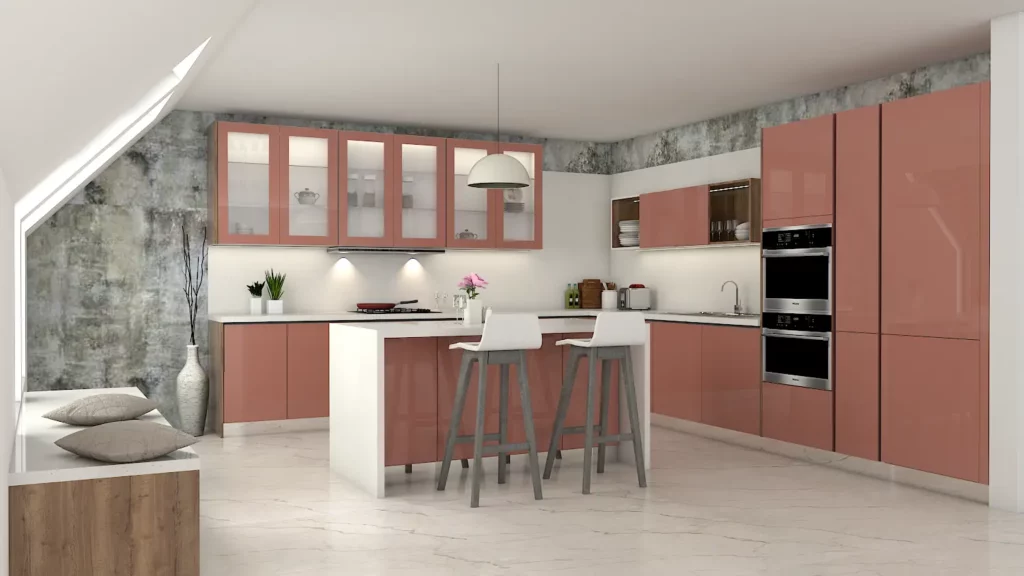 Interwood Alexia is an intellectually designed kitchen that is organised, sleek, modern and very functional. The storage space is intelligently designed with practical solutions.
Interwood Cecilia kitchens are extremely high glossy. It is beyond the basic functional kitchen.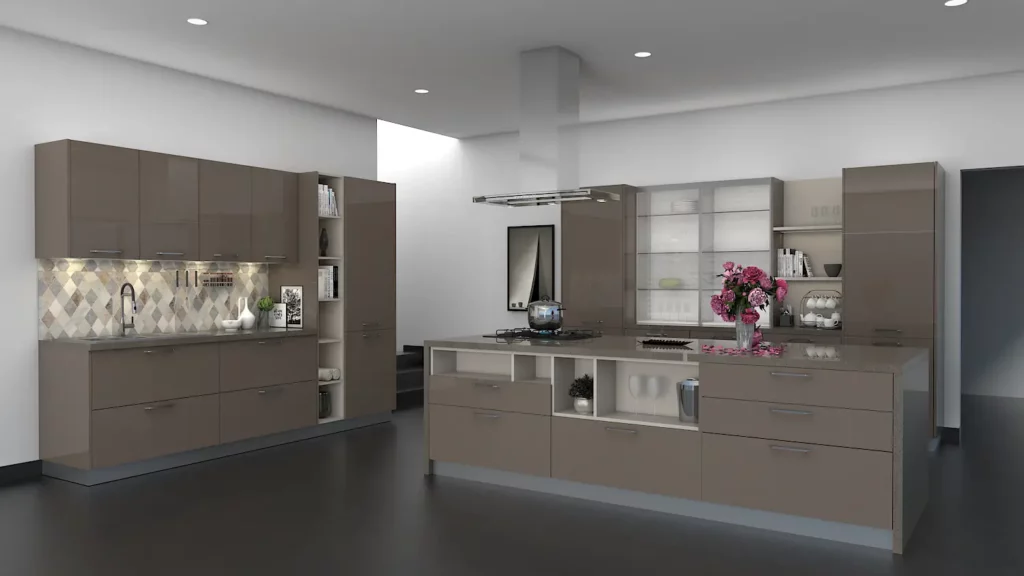 Contact us and we are here to serve you always. You can finalise your basic design and the quotation with the consultation of our expert designers. So, what are you waiting for? Book your consultation.