Stepping into a kitchen should not feel like you're going into a war zone to carry out a mission – but a place that lifts up your spirits and puts you at ease. Over the last few decades, kitchens have changed dramatically, with traditional, carpenter-made ones making way for sleek, stylish, and well-organized spaces you would love spending time in.
If you've decided to install a modular kitchen in your home, you've made the right choice! The next logical question would be what type of modular kitchen is best for you.
Here's a beginner's guide on different types of modular kitchen to help you decide on one that complements your home the most.
Open Vs. Closed Modular Kitchen
Most modular kitchens can be adapted into either Open or Closed layouts.
As the name suggests, Open kitchens are open, airy spaces. They blend in seamlessly with the rest of your home, making the kitchen appear bigger than it actually is. If space is a constraint and you don't mind your cooking area up on display, then Open layouts are perfect for you.
Closed layouts are one of the more common types of modular kitchen in India. They are confined, private spaces much like other rooms in the house. What's good is since they're cut off by walls and doors, the sounds and smells don't escape and circulate through the house.
Closed Kitchens work best for those who have plenty of space in hand and want to cook in peace, away from the eyes of guests.
Also Read: 10 Tips on How to Design a Modular Kitchen: 2022 Guide
Different Types of Modular Kitchen You Should Know About
What works for someone else might not work for you. To design the kitchen of your dreams, you need to factor in size available, overall aesthetics, and functionality. Below are the most ubiquitous types of modular kitchens layout, each with its pros and cons.
1. Straight-Line Kitchens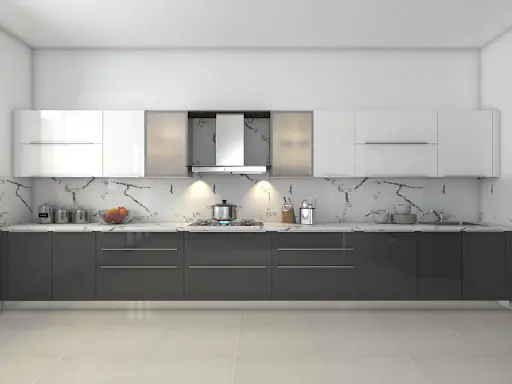 Straight-line kitchens usually come in open layouts, making them ideal for compact homes and studio apartments. All the appliances, storage units, and cooking and cleaning stations are lined up accessibly against a single wall allowing you to get the best out of limited space.
Straight kitchens also stand out from the rest of the formats as they don't rely on the kitchen work triangle as all the basic units- sink, hob, and the refrigerator are next to each other in a single line.
Key Benefits:
Perfect for small homes
Aesthetically minimalist
Easily accessible
2. L-Shaped Kitchens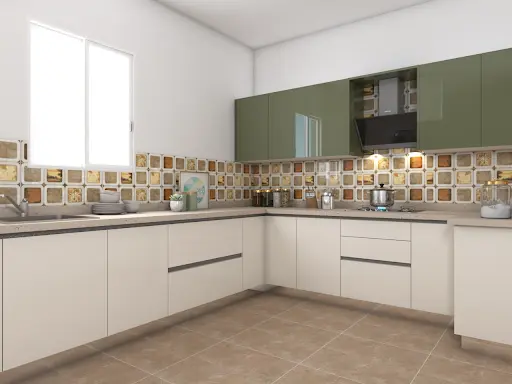 The L-shaped is inarguably one of the most popular types of modular kitchen. What makes these units such crowd favorites is the smart space utilization they offer, with two adjacent walls forming an "L," giving you a wide area between the sink, hob, and the refrigerator.
Like Straight kitchens, L-shaped is an excellent choice where space is a constraint. However, these offer more storage space and easier workflow than Straight units.
Key Benefits:
Work well in both small and spacious homes
Can accommodate an island for extra workspace
3. U-Shaped Kitchens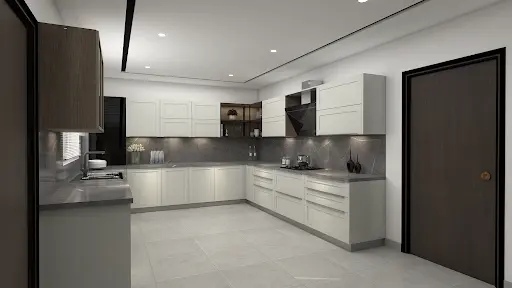 As popular as L-shaped, if not more, "U" modular kitchens are typically three-walled units with plenty of work and storage space on offer. For them to deliver the best kitchen experience, U-shaped modular units need ample space at disposal. Else, things can get a bit cramped up.
Besides being an absolute joy to cook in, U-shaped kitchens are quite generous when it comes to entertaining guests. Your friends and family can chat with you or help you cook up a storm without bumping into each other.
Key Benefits
Great layout for large homes and large families
Delightful amount of storage space
Perfect for multitasking- cooking, entertaining, dining
4. Galley Kitchens
There's a reason Chefs love this layout. Galley kitchens have two long walls or lanes of cabinetry running parallely against each other with a walkway between them. This way, you get plenty of counter space to work and place appliances at an accessible distance from one another.
What's more, you can use one side like a wet counter for all the cooking and the other side for prepping while whipping up your favorite epicurean delights!
A Galley is one of those types of modular kitchen that doesn't require much space, making it a wise option for smaller apartments with a long and narrow layout. Most people who pick this design tend to have a balcony or utility area at one end of the walkway.
Even those with larger kitchens choose these units for their convenience, functionality, and hassle-free maintenance.
Key Benefits:
Allows to get more out of limited space
Flexibility to segregate dry and wet workspace
Efficient and easy to clean
5. Island Kitchens
Want a cozy dining nook or a multi-purpose work counter in your kitchen? Then Islands are right up your alley! These units are often paired with Straight or L-shaped layouts to maximize space while enhancing the visual appeal of your kitchen by giving it a chic, contemporary look.
You'll find these eye-catching units placed right in the middle of the kitchen for easy movement and flow of activities. Whether you use it to work, dine, or entertain, Islands are hands down the most versatile design element you can add to your modular kitchen layout.
Key Benefits:
An additional multifunctional area
Offers extra storage space
Boosts overall aesthetics
6. G-Shaped Kitchens
These offer the best of both U-shaped and Island kitchen configurations. Here, instead of being placed at the center, the additional unit is an extension of the main counter, forming a "G."
G-shaped kitchens are also known as the Peninsula layout for being accessible from three sides. In contrast to free-standing Islands, a Peninsula unit takes up less floor space while offering all that an Island does. Use it as a breakfast counter, a prepping area, a cleaning station, or whatever your heart desires!
It is essential to keep things minimalist and simple with these types of modular kitchens layout. With so many wall cabinetry and base units, proper planning is required to ensure easy accessibility and traffic movement.
Key Benefits:
More suited for medium to large-sized kitchens
Extra cabinets for storage
Works both as a countertop and in-kitchen dining
Uses less floor space vs. an Island
Final Thoughts
Whether you pick a U-shaped, L-shaped, Galley, or Straight Kitchen, every layout brings something unique to the table. Our extensive range of styles can be customized and installed in any of the different types of modular kitchen layouts we talked about above.
At Interwood, we understand the importance of weighing in size, utility, and decor to manifest the kitchen of your dreams. And that is why our experienced team is there to guide and help you every step of the way.
Feel free to reach out to us for a consultation call to know which type would suit your home and needs the best.